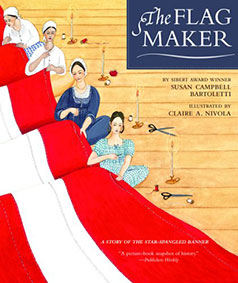 by Susan Campbell Bartoletti
illustrated by Claire A. Nivola
Houghton Mifflin, 2004
paperback: 978-0618809110
208 pages, ages 9-12
A Story of the Star-Spangled Banner
Here in lyrical prose is the story of the flag that inspired Francis Scott Key to write the words that became the national anthem of the United States.
This is a story of the early days of the flag as seen through the eyes of young Caroline Pickersgill, the daughter of an important flag maker, Mary Pickersgill, and the granddaughter of a flag maker for General George Washington's Continental army.
It is also a story about how a symbol motivates action and emotion, brings people together, and inspires courage and hope.
 In this accomplished work of picture book nonfiction, Bartoletti explores a hallowed event in U.S. history: the British attack of Fort McHenry in 1813 and the celebrated resilience of its garrison flag … The book's resonance owes as much to the delicate watercolors as to Bartoletti's controlled storytelling." (Booklist, starred review)
As inspiring as it is elegantly turned out, this will add unusual dimension to a famous episode in our national story. (Kirkus Reviews)