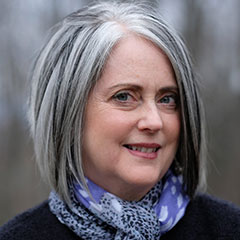 Susan Campbell Bartoletti
(photo: Preston Ehler)
To download a version of this photo, click on a link below, then right-click or option-click, choosing to "save image as."
Susan Campbell Bartoletti has published poetry, short stories, picture books, and novels, but she is best known for her award-winning nonfiction books.
Bartoletti has been called a "fearless researcher." She uses primary sources such as images, photographs, oral histories, interviews, letters, and other archival materials to breathe the past to life. Her nonfiction subjects include child labor, the Great Irish Famine, Hitler Youth, the KKK, the woman who became known as Typhoid Mary, and woman suffrage. 
"I'm often asked if I write to show young people today how good they have it," says Bartoletti. "I don't. I hope that my work gives my readers courage—courage to question and to think critically about history; courage to consider and respond to their social, political, and existential responsibilities; and, most of all, courage to stand up."
Her engaging work has received dozens of awards and honors, including the Newbery Honor, the ALA Robert F. Sibert Award for Nonfiction, the NCTE Orbis Pictus Award for Nonfiction, the Jane Addams Children's Book Award, the YALSA Excellence in Nonfiction Honor, the Charlotte Zolotow Honor for picture book writing, the SCBWI Golden Kite Award for Nonfiction, the Pennsylvania Library Association Carolyn W. Field award, and the Washington Post/ Children's Book Guild Nonfiction Award for her body of work.
Despite writing about difficult subjects, she insists that she has a good sense of humor, no doubt a defense mechanism developed as a result of teaching eighth grade for eighteen years. She holds a BA in English from Marywood University, an MA in English from the University of Scranton, and a Ph.D. in English from the State University of New York at Binghamton where she won the Excellence in Research award. She lives with her husband and a dog named Charlie near Scranton, Pennsylvania.