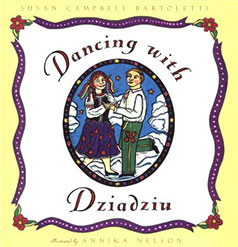 by Susan Campbell Bartoletti
illus by Annika Nelson
Harcourt, Brace & Co., 1997
hardcover: 978-0152006754
40 pages, ages 4 and up
Find this book at your
favorite library or used bookseller.
Gabriella loves to dance, and she loves to hear her grandmother Babci's stories—stories about Poland, the house in the coal patch, the chickens with blue feet. And especially the stories of those happy evenings long ago when Babci danced with her handsome young husband, Dziadziu. Gabriella and her grandmother are bound together by stories, by dancing, and by love in this poignant Easter story.
Young Gabriella listens to her grandmother's stories of Poland, immigrant life in America, and dancing with her handsome young husband, Dziadziu, in an enchanting, life-affirming story that's as iridescent as the glimmer between life and death. Bartoletti (Silver at Night, 1994, etc.) works magic, writing in the voice of the granddaughter … a wonderfully mature story, full of humanity. (Kirkus Reviews)
In direct and uncomplicated language and through a series of flashbacks, Bartoletti captures the spirit of love and caring across generations and the temperament of people who keep dancing through hard periods. Nelson's captivating hand-colored linoleum-cut illustrations play an important role in conveying a Polish American family's history as well as a strong sense of place. (Karen Morgan, Booklist)