The Journal of Finn Reardon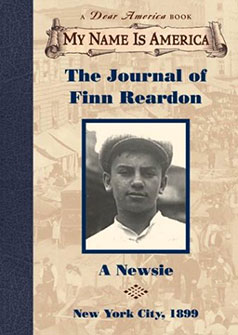 by Susan Campbell Bartoletti
Scholastic, Inc., 2003
hardcover: 978-0439188944
160 pages, ages 9-12
Dear America Series
Find this book at your
favorite library or used bookseller.
A Newsie, New York City, 1899
When Finn Reardon's father dies, he decides to support his mother and eight siblings by peddling newspapers on the streets corners of New York City. But when the two biggest newspaper publishers, Hearst and Pulitzer, raise the wholesale price that Finn and his friends pay for the papers they sell, the boys band together and go on strike. Susan Campbell Bartoletti brings humor and wit to this classic David and Goliath struggle between the Newsies and the newspaper publishers.
Finn's Irish family embodies many of the hopes and dreams of immigrants as they endure the setbacks and challenges of poverty. Finn's desire to become a reporter does not extend to enjoying school, just as his father's aspirations for wealth sometimes lead him outside the law. The 13-year-old's buddies, Racetrack and Mush, are also newsies and, along with Grandpa Jiggsy, keep things humming. Bartoletti's engaging style using slang (heavy use of "my arse" throughout) and the family's Irish background help the story to become much more than a recitation of historical facts. This story of life as a newsie, hawking papers on the streets of New York, is a standout in the series. The book includes an imagined epilogue that continues the deception that this is a real diary, and a historical note provides the accurate context with numerous photographs. For fans of the series, this title will be a highlight—it's entertaining and the characters leap off the pages.
(Carol A. Edwards, School Library Journal)