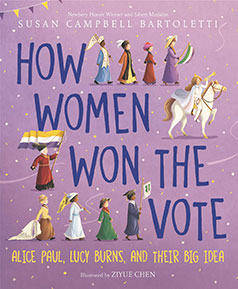 by Susan Campbell Bartoletti
illustrated by Ziyue Chen
HarperCollins, 2020
hardcover: 978-0062841308
80 pages, ages 8-12
Alice Paul, Lucy Burns, and Their Big Idea
In time to celebrate the 100th anniversary of woman suffrage in America, this page-turning, stunningly illustrated, and tirelessly researched story of the little-known DC Women's March of 1913 will fascinate you.
You'll be introduced to suffragettes Alice Paul and Lucy Burns. Paul and Burns met in a London jail and fought their way through hunger strikes, jail time, and much more to win a long, difficult victory for America and its women.
Includes extensive back matter and dozens of archival images to evoke the time period between 1909 and 1920.
This succinctly written and carefully sourced text offers young readers a glimpse into the struggles required to enact political change. She recounts details of picket lines, arrests, hunger strikes, and forced feedings endured by many of the women who participated in the protests. She also acknowledges the prevalent racism of the time, which sometimes prevented African American women, including Ida B. Wells, from participating fully in these activities. Chen's richly hued digital artwork meshes seamlessly with numerous captioned documentary photos, along with charts, maps, and sidebars. … Featuring generous back matter (including a time line, sources and notes, and further reading), this is an attractive and informative introduction that fills in key details often missing from other accounts of this story. (Booklist, starred review)
Sidebars, captions, and the inclusion of photos and newspaper clippings add informative visual interest along with Chen's clear, unaffected illustrations. Text and pictures convey the conflict and struggle without sensationalism. The inclusion of a photograph of the January 2017 Women's March acknowledges that there is more work to be done. A well-documented, highly condensed introduction with substantial visual appeal. (Kirkus Reviews)
When Alice Paul and Lucy Burns met in a London jail after being arrested in UK suffrage protests, the two American women knew they wanted to reinvigorate the American suffrage battle! The pair organized the DC Women's March of 1913, a stunning and attention-grabbing parade right before the inauguration of President Woodrow Wilson, and that was just the beginning of their protests. Author Susan Campbell Bartoletti tells the story of the final push towards the 19th Amendment with verve, including archival images, sidebars, and other fascinating details, while illustrator Ziyue Chen captures the feeling of the early 20th century. This compelling book, published for the 100th anniversary of the 19th Amendment, is the perfect addition to your suffrage movement shelf. (A Mighty Girl)
This accessible title warrants shelf space. A solid jumping-off point for students working on reports about the suffragette movement. (School Library Journal)
[O]ffers an engaging and nuanced view of the movement…and comes far closer to providing the multigenerational, multiracial and, very often, racist bigger picture. (New York Times Book Review)
[O]ffers an engaging and nuanced view of the movement…and comes far closer to providing the multigenerational, multiracial and, very often, racist bigger picture. (New York Times Book Review)
[T]imely history of voter suppression…To its credit, this candid account does not skirt irony — that in fighting gender discrimination, parade organizers themselves practice racial discrimination, at first barring black women from participation…Thus, the suffrage movement is shown to be both regressive and progressive, underscoring a persistent contradiction perhaps central to understanding our American story. (San Francisco Chronicle)
[W]ell-sourced account of the fight for American women's suffrage. A timeline of events preceding 1909 (beginning in 1775), an author's note, extensive notes, and a selected bibliography are appended. (The Horn Book)
Bartoletti masterfully tells the story of two college graduates — Alice Paul and Lucy Burns — who met in London in 1909. They bonded in jail after being arrested for protesting and went on to organize the 1913 parade in Washington for women's suffrage on the eve of President Woodrow Wilson's inauguration. They waged protests, hunger strikes and endured violent attacks, all for the right to vote. Bartoletti weaves into the story the struggle of Black women such as Ida B. Wells to vote.(Houston Chronicle)