They Called Themselves the KKK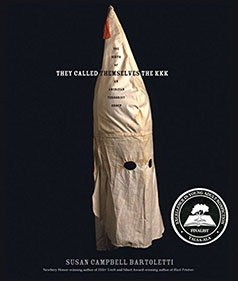 by Susan Campbell Bartoletti
HMH Books for Young Readers, 2010
hardcover: 978-0618440337
paperback: 978-0544225824
176 pages, ages 11 up
The Birth of an American Terrorist Group
Boys, let us get up a club.
With those words, six restless young men raided the linens at a friend's mansion, pulled pillowcases over their heads, hopped on horses, and cavorted through the streets of Pulaski, Tennessee, in 1866. The six friends named their club the Ku Klux Klan, and, all too quickly, their club grew into the self-proclaimed Invisible Empire with secret dens spread across the South.
This is the story of how a secret terrorist group took root in America's democracy. Filled with chilling and vivid personal accounts unearthed from oral histories, congressional documents, and diaries, this is a book to read and remember.
ALA Notable
Booklist Top of the List Winner for 2010, Best YA Books of All Time, and Editor's Choice for 2010
CCBC Choices 2011
Chicago Public Library Best of the Best
Horn Book Magazine 2010 Fanfare List
Junior Library Guild Selection
Kirkus Best Books for Teens 2010
Notable Book for a Global Society, International Reading Association
Orbis Pictus Recommended Title, National Council of Teachers of English
Publisher's Weekly Best Children's Book of the Year 2010
School Library Journal Best Children's Book of the Year 2010
Washington Post Best Children's Book of 2010
YALSA Excellence in Nonfiction Finalist Honor winner
Balancing the stories of the Klan and the former slaves' determination to remake their lives, Bartoletti makes extensive use of congressional testimony, interviews, journals, diaries and slave narratives to allow the players to speak in their own voices as much as possible…An exemplar of history writing and a must for libraries and classrooms. (Kirkus Reviews, starred review)
Bartoletti follows multi-award-winning titles such as Hitler Youth (2005) with another standout contribution to youth history shelves…It's the numerous first-person quotes, though, that give the book its beating heart, and her searing, expertly selected stories of people on all sides of the violent conflicts will give readers a larger understanding of the conditions that incubated the Klan's terrorism; how profoundly the freed people and their sympathizers suffered; and how the legacy of that fear, racism, and brutality runs through our own time. (Booklist, starred review)
Copious photos, engravings, and illustrations provide a hard-hitting graphic component to this illuminating book. And while Bartoletti notes that contemporary 'hate groups wield none of the power or prestige that the Ku Klux Klan held in earlier years,' her account of attending a Klan meeting while researching the book is chilling to the core. (Publishers Weekly, starred review)
As in Hitler Youth, Bartoletti tackles a tough, grim subject with firmness and sensitivity…Period illustrations throughout make seeing believing, and the appended civil rights timeline, bibliography, and source notes are an education in themselves. Exemplary in scholarship, interpretation, and presentation. (The Horn Book, starred review)
Bartoletti effectively targets teens with her engaging and informative account that presents a well-structured inside look at the KKK, societal forces that spawn hate/terrorist groups, and the research process. (School Library Journal, starred review)
It is, of course, through reading a book like this — and understanding the "Why?" — that we gain the insight necessary to help stop the flames of hatred and fear from spreading in whatever direction they next travel. (Richie Partington, Richie's Picks)
This remarkable book details the history of America's first and longstanding terrorist group, the Ku Klux Klan. With Bartoletti's voice the story reads like a narrative yet provides all the well-researched information about this group that is, shockingly, still with us…. To me, this may be the most important book of the year. (Capitol Choices)