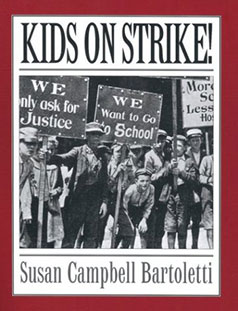 by Susan Campbell Bartoletti
HMH Books for Young Readers, 2003
176 pages, ages 11 up
paperback: 978-0618369232
Find this book at your 
favorite library or used bookseller.
By the early 1900s, nearly two million children were working in the United States. From the coal mines of Pennsylvania to the cotton mills of New England, children worked long hours every day under stunningly inhumane conditions. After years and years of oppression, children began to organize and make demands for better wages, fairer housing costs, and safer working environments.
Some strikes led by young people were successful; some were not. Some strike stories are shocking, some are heartbreaking, and many are inspiring—but all are a testimony to the strength of mind and spirit of the children who helped build American industry.
ALA Best Book for Young Adults
Jane Addam's Children's Book Award
Jefferson Cup Recommended Title
NCSS Notable Children's Trade Book
NCTE Recommended Title
New York Public Library Best Books for the Teen Age
Pennsylvania Carolyn Field Honor Award
School Library Journal Best Books of 1999
The grit and determination of these children who, in the face of police abuse, bureaucratic negligence, and governmental (even presidential) indifference, banded together for a common cause, and the startling black-and-white photographs, ensure that readers will be alternately awed and appalled by this stunning account of child labor in the US. (Kirkus Reviews)
The book is honest in describing not only the strikes that ended in success but also those that failed or resulted in limited victories. The final chapter surveys the development of the National Child Labor Committee and briefly touches on the plight of African-American child laborers (who frequently worked for no pay at all) and the pioneering art of Lewis Hine, whose photographs of child workers brought the issue before the American public. Finally, it includes information on the later life experiences of many of the children discussed in the text. As memorable as their inspiring stories are, they represent just a few of the children who worked and battled for better lives. The anonymous children depicted in the photographs-older than their years, dirty, sometimes maimed by factory machinery-are equally haunting and affecting. (The Horn Book)